History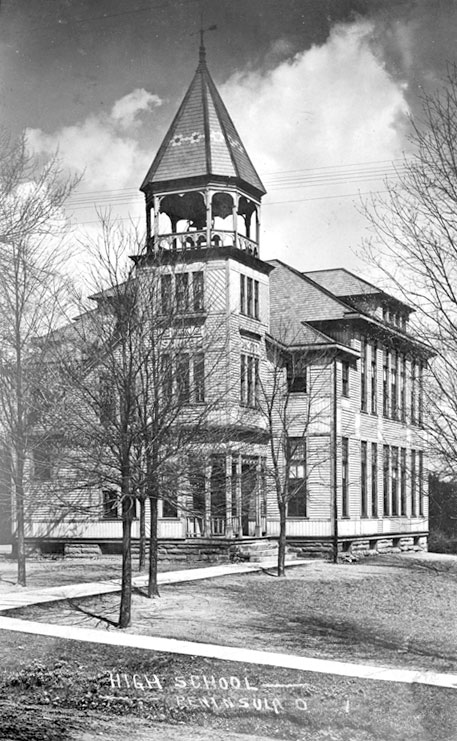 The Boston Township Hall served many purposes before its current use.  The building was constructed in 1887 by the Peninsula Board of Education to bring together those students who lived within the village limits.  Prior to construction of this building, students who lived on the west side of the Cuyahoga River attended the one-room school across the street (now the G.A.R. Hall).  Students who lived on the east side of the river went to school on the second floor of the Peninsula Village hall located on the southeast corner of Rt. 303 and Akron-Peninsula Rd.  The architect for this stick-style building was John Eisenmann, who has been recognized for his work on the Cleveland Arcade and for designing Ohio's state flag in 1902.
In 1919, the Peninsula Board of Education merged with the Boston Township Board of Education and this building transferred to the new district.  The brick addition was completed in 1920 in response to a state initiative to consolidate the remote one-room schoolhouses located in the township into a centralized school.  The architects on the brick addition were Harpster and Bliss, who have been recognized for their work in the Akron area, including O.C. Barber's Anna Dean estate.
Due to increased enrollment, a new Boston Township High School was built in 1930 on Bronson Avenue.  In 1939, the Trustees of Boston Township purchased this property from the Board of Education for $100.  Union Grange #2380 took up residence on the first floor of this building and the second floor was relegated to storage.  The first floor of the brick addition housed the Peninsula Library from 1947 to 1964.  Boy Scout and Girl Scout troops met in the classrooms on the second floor of the brick addition.
By 1985, time had taken its toll on the two buildings and they were closed by order of the State Fire Marshal.  The non-profit Boston Township Hall Committee, Inc. was formed in 1990 to work in collaboration with the Boston Township Trustees to renovate the buildings and to find new uses for them.  A $1.2 million renovation was begun in 1999 to rehabilitate the buildings.  Today, the two buildings house Boston Township offices, the Cuyahoga Valley Historical Museum, offices for professional firms, and rooms that can be rented for parties or receptions.  Should you want to contact the Boston Township Hall Committee, Inc., they can be reached at (330) 657-BTHC.